Check out the top stories from this week's NFL action and see how your favorite VFLs performed.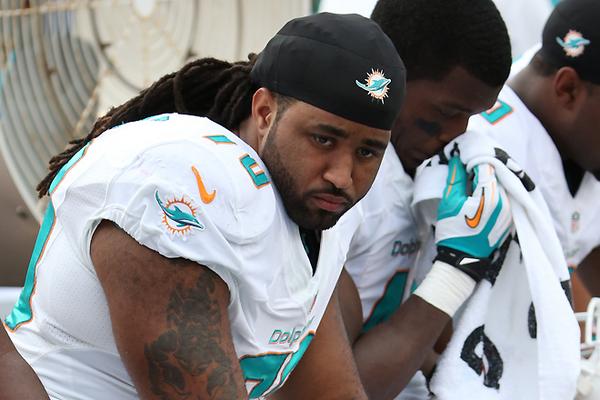 In the match-up between the Kansas City Chiefs and Miami Dolphins, two former Vol teammates made it on the field together. Both Ja'Wuan James and Zach Fulton, rookies, started for their respective teams. As well, VFL Dallas Thomas made his first starting appearance besides James. Also meeting up were the mothers of Fulton and James, once again together cheering on their sons.
In a 2014 Super Bowl reunion, the Broncos fell to the defending champions. Tony McDaniel made the start at LDT. Peyton Manning threw two touchdowns despite the loss.
Despite a chest injury, Cordarrelle Patterson racked up the most yardage for former Vols with 61 yards. Behind him, Jason Witten was just one yard shy of 50 yards. Robert Meachem and Denarius Moore both earned 23 yards in receptions.
Leading in tackles was Jerod Mayo who earned the team-high of 11 tackles. Robert Ayers had three tackles and both Parys Haralson and Dan Williams racked up two.
| | | | | |
| --- | --- | --- | --- | --- |
| Name | Position | Team | Result | Stats |
| Robert Ayers | DE | New York Giants | Def. Houston 30-17 | Three tackles |
| Eric Berry | DB | Kansas City Chiefs | Def. Miami 34-15 | Inactive, injured |
| Tyler Bray | QB | Kansas City Chiefs | Def. Miami 34-15 | Injured reserve |
| Britton Colquitt | P | Denver Broncos | Lost to Seattle 26-20 OT | 8 punts, 47.3 yd. avg., 3 inside the 20 |
| Dustin Colquitt | P | Kansas City Chiefs | Def. Miami 34-15 | 5 punts, 51 yd. avg., 2 inside the 20 |
| Morgan Cox | LS | Baltimore Ravens | Def. Cleveland 23-21 | Played at LS |
| Arian Foster | RB | Houston Texans | Lost to NYG 30-17 | Inactive |
| Ramon Foster | OT | Pittsburgh Steelers | Def. Carolina 37-19 | Inactive |
| Zach Fulton | G | Kansas City Chiefs | Def. Miami 34-15 | Started at RG |
| Parys Haralson | LB | New Orleans Saints | Def. Minnesota 20-9 | Started at OLB, two tackles |
| Justin Hunter | WR | Tennessee Titans | Lost to Cincinnati 33-7 | Three receptions for 37 yds. |
| Malik Jackson | DL | Denver Broncos | Lost to Seattle 26-20 OT | Five tackles |
| Ju'Wan James | OL | Miami Dolphins | Lost to Kansas City 34-15 | Started at RT |
| Austin Johnson | FB | New Orleans Saints | Def. Minnesota 20-9 | Played at FB, one rush, one tackle |
| Peyton Manning | QB | Denver Broncos | Lost to Seattle 26-20 OT | 31-for-49, 303 yds., 1 interception, 2 TDs |
| Jerod Mayo | LB | New England Patriots | Def. Oakland 16-9 | Started at LB, team-high 11 tackles |
| Jacques McClendon | OL | Jacksonville Jaguars | Lost to Indianapolis 44-17 | Played at G |
| Tony McDaniel | DT | Seattle Seahawks | Def. Denver 26-20 OT | Started at LDT |
| Daniel McCullers | DT | Pittsburgh Steelers | Def. Carolina 37-19 | Inactive |
| Robert Meachem | WR | New Orleans Saints | Def. Minnesota 20-9 | One reception for 23 yds. |
| Denarius Moore | WR | Oakland Raiders | Lost to New England 16-9 | Three receptions for 23 yds. |
| Cordarrelle Patterson | WR | Minnesota Vikings | Lost to New Orleans 20-9 | Four receptions for 61 yds. |
| Antonio Richardson | OL | Minnesota Vikings | Lost to New Orleans 20-9 | Injured reserve |
| Mychal Rivera | TE | Oakland Raiders | Lost to New England 16-9 | Two receptions for 11 yds. |
| Matt Simms | QB | New York Jets | MNF | Practice squad |
| Jacques Smith | LB | Atlanta Falcons | Def. Tampa Bay 56-14 | Practice squad |
| Luke Stocker | TE | Tampa Bay Bucs | Lost to Atlanta 56-14 | Two receptions for 15 yds. |
| James Stone | OL | Atlanta Falcons | Def. Tampa Bay 56-14 | Inactive |
| Dallas Thomas | OL | Miami Dolphins | Lost to Kansas City 34-15 | Started at RG |
| Scott Wells | OL | St. Louis Rams | Lost to Dallas 34-31 | Started at C |
| Dan Williams | DT | Arizona Cardinals | Def. San Francisco 23-14 | Started at NT, two tackles |
| Jason Witten | TE | Dallas Cowboys | Def. St. Louis 34-31 | Four receptions for 49 yds. |