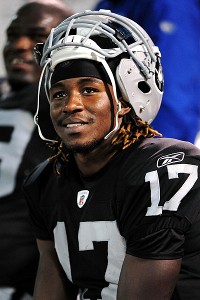 Here's the starts of the story: Jason Campbell knew the Oakland Raiders had a draft steal before the team's coaching staff did.

A month after the Raiders took the intriguing, but perhaps inconsistent, Denarius Moore in the fifth round of the draft, he quickly drew attention from his new quarterback at a player-organized camp in Georgia during the lockout. As soon as he started throwing passes to his assembled receivers, Campbell wanted to know more about Moore, a 5-foot-11, 194-pound Tennessee product.

"He immediately caught my eye," Campbell said this week. "I said 'we need to get some plays for this kid.' From the first day, it was effortless for him."

Moore has been the story of Oakland's camp. He went from being a late-round project with long-term possibilities to a player who looks ready to help the team right away. There is a chance he will start for Oakland in the regular-season opener Sept. 12 at Denver in the second half of ESPN's "Monday Night Football" doubleheader. If Moore is not starting for the Silver and Black early in the season, he will certainly be in the top of part of the Raiders' receiving rotation.
The final NFL preseason game saw
Seattle beat Oakland, 20-3
. A pair of former Vols saw action. Moore made a catch for two yards and John Henderson had a tackle.