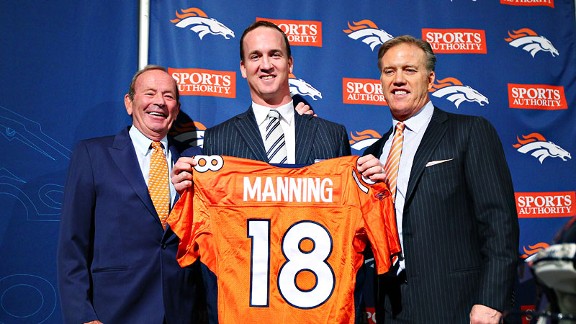 In a packed team meeting room inside of Denver's training facility, Peyton Manning stood next to John Elway and team owner Pat Bowlen and held up brand new orange No. 18 Broncos jersey, officially kicking off his introduction as the next quarterback of the Denver Broncos.
"I'm very excited to begin the next chapter of my playing career with the Denver Broncos," Manning said during a Tuesday news conference. "This truly is a special football environment, and I'm glad to be a part of it.
" ... I'm thrilled to be here. I'm looking forward to meeting my new teammates, and doing whatever I can to help this franchise win another Super Bowl."
Here are some national media stories:

- ESPN.com: Broncos welcome Manning
- ESPN.com: Doesn't happen without Elway
- NFL.com: Back in orange: Manning 'thrilled' to begin next chapter in Denver
- NFL.com: What to expect from Manning in 2012
- CBS Sports.com: Passing the torch
- SI.com: Shot at another title drew Manning to Broncos
- SI.com: Manning's mental edge gives Broncos a boost
- Denver Post: Peyton Manning introduced
- Denver Post: Peyton Manning will wear No. 18 with Broncos
- Denver Post: Peyton Manning's deal with Broncos: 5 years, $96 million