Lots of birthdays to celebrate on Oct. 29.
New York Mets pitcher Cy Young candidate R.A. Dickey, a three-time All-American while pitching for the Vols in the 1990s.
Tennessee swimmer Samara Gelb, who graduated from UT in 2012.
Former Vols star running back Travis Henry, who is Tennessee's all-time leading rusher with 3,078 yards. Henry played seven years in the NFL.
All-American women's basketball legend Michelle Marciniak was named the MVP of the 1996 FInal Four as UT won the National Championship.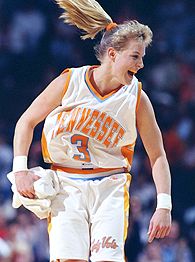 Current Tennessee swimmer Lauren Solernou also celebrates her birthday on Oct. 29.