Again, more records were broken in week seven of NFL action.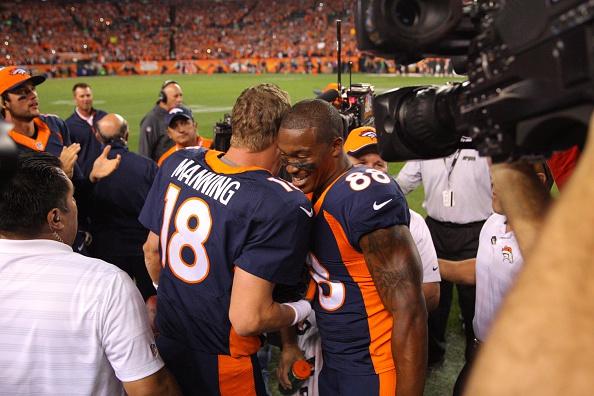 Peyton Manning broke the previous touchdown passing record of 508, set by Brett Favre, when he threw four touchdowns on Sunday night in his 246th career NFL game. Manning's total was brought up to 510. His 509 career touchdown passes were to 45 different players over his career with both the Broncos and Colts. He also broke the record in 56 games fewer than Favre. He now stands 125 scoring passes ahead of the next active quarterback, Drew Brees.
Notes:
- Manning has thrown multiple touchdown passes in all six games to start the year, only the 14th time a player has accomplished that.
- Manning has 156 career games with multiple touchdown passes, second to only Brett Favre (159) in NFL history.
- Manning has thrown at least one touchdown in 45 consecutive games, marking the fourth longest streak in NFL history. The record is 54 by Brees.
After becoming the third tight end with 10,000 receiving yards, Witten climbed into the No. 2 spot all-time for career receiving yards by a tight end to pass Shannon Sharpe. He is now 40th among all-time receivers and second among tight end in the NFL for receiving yards with 10,065 receiving yards. Tony Gonzales leads with 1,325 receptions and 15,127 yards.
Check out the rest of the VFLs in the NFL performed:
| | | | | |
| --- | --- | --- | --- | --- |
| Name | Position | Team | Result | Stats |
| Robert Ayers | DE | New York Giants | Lost to Dallas 31-21 | One tackle |
| Eric Berry | DB | Kansas City Chiefs | Def. San Diego 23-20 | Inactive, injured |
| Tyler Bray | QB | Kansas City Chiefs | Def. San Diego 23-20 | Injured Reserve |
| Britton Colquitt | P | Denver Broncos | Def. San Fran. 42-17 | 4 punts, 42.8 avg., two inside the 20 |
| Dustin Colquitt | P | Kansas City Chiefs | Def. San Diego 23-20 | 4 punts, 43.3 avg., two inside the 20 |
| Morgan Cox | LS | Baltimore Ravens | Def. Atlanta 29-7 | Played at LS |
| Arian Foster | RB | Houston Texans | MNF | MNF |
| Ramon Foster | OT | Pittsburgh Steelers | MNF | MNF |
| Zach Fulton | G | Kansas City Chiefs | Def. San Diego 23-20 | Started at RG |
| Parys Haralson | LB | New Orleans Saints | Lost to Detroit 24-23 | Three tckls, one sack, 2 QH |
| Justin Hunter | WR | Tennessee Titans | Lost to Washington 19-17 | One reception for 6 yards |
| Malik Jackson | DL | Denver Broncos | Def. San Fran. 42-17 | One tckl, one sack for a loss of nine |
| Ja'Wuan James | OL | Miami Dolphins | Def. Chicago 27-14 | Started at RT |
| Austin Johnson | FB | New Orleans Saints | Lost to Detroit 24-23 | One rec., 13 yds., first career TD, 1 tckl |
| Peyton Manning | QB | Denver Broncos | Def. San Fran. 42-17 | 22-26-318-4 TDs, new passing TD record |
| Jerod Mayo | LB | New England Patriots | Def. NY Jets 27-25 | Injured Reserve |
| Jacques McClendon | OL | Jacksonville Jaguars | Def. Cleveland 24-6 | Played at G |
| Tony McDaniel | DT | Seattle Seahawks | Lost to St. Louis 28-26 | Started at LDT |
| Daniel McCullers | DT | Pittsburgh Steelers | MNF | MNF |
| Robert Meachem | WR | New Orleans Saints | Lost to Detroit 24-23 | Started at WR |
| Denarius Moore | WR | Oakland Raiders | Lost to Arizona 24-13 | One reception for 13 yds. |
| Cordarrelle Patterson | WR | Minnesota Vikings | Lost to Buffalo 17-16 | Two recs., nine yds., TD |
| Tauren Poole | WR | Carolina Panthers | Lost to Green Bay 38-17 | Practice squad |
| Antonio Richardson | OL | Minnesota Vikings | Lost to Buffalo 17-16 | Injured Reserve |
| Mychal Rivera | TE | Oakland Raiders | Lost to Arizona 24-13 | One reception for 18 yds. |
| Chris Scott | G | Carolina Panthers | Lost to Green Bay 38-17 | Practice squad |
| Matt Simms | QB | New York Jets | Lost to New England 27-25 | Practice squad |
| Jacques Smith | LB | Atlanta Falcons | Lost to Baltimore 29-7 | Practice squad |
| Luke Stocker | TE | Tampa Bay Bucs | BYE | BYE |
| James Stone | OL | Atlanta Falcons | Lost to Baltimore 29-7 | Played at C |
| Dallas Thomas | OL | Miami Dolphins | Def. Chicago 27-14 | Played at G |
| Scott Wells | OL | St. Louis Rams | Def. Seattle 28-26 | Started at C |
| Dan Williams | DT | Arizona Cardinals | Def. Oakland 24-13 | Two tackles |
| Jason Witten | TE | Dallas Cowboys | Def. NY Giants 31-21 | Two recs., 27 yds. |