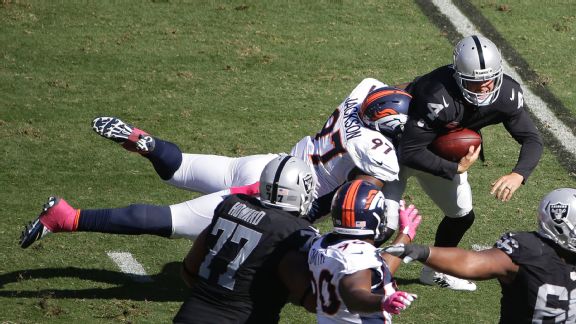 Jackson, Denver D Shine vs. Oakland
Malik Jackson and the Denver Broncos defense stood out on Sunday. Jackson made a season-high six tackles (his most since making six stops against Buffalo on Dec. 7, 2014) and recorded one sack as the Broncos limited the Oakland raiders to just 288 yards of offense.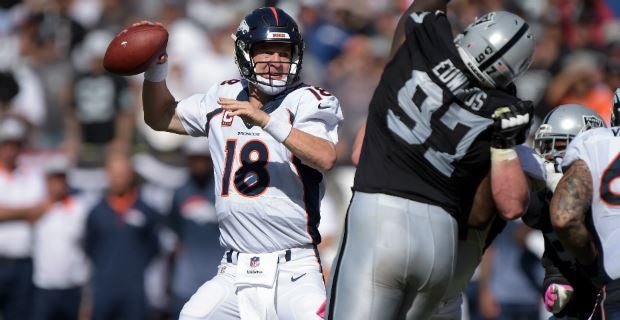 Manning Sets Overall Career Passing Yards Record
Peyton Manning broke the league record for most overall career passing yards in the third quarter of Sunday's 16-10 win over the Raiders. He now has 77,725 passing yards over 18 seasons, including the playoffs. He needs another 914 yards to surpass the regular-season record of 71,838 passing yards, held by former Packers quarterback Brett Favre, for the most all-time.
Monday Night Vols
VFLs and Pittsburgh Steelers Ramon Foster and Daniel McCullers take on the San Diego Chargers tonight at 8:30 p.m. ET on ESPN.
| Player | Pos. | Team | Week 5 Opponent | Result | Week 5 Stats | Week 6 Opponent |
| --- | --- | --- | --- | --- | --- | --- |
| Robert Ayers | DE | NY Giants | San Francisco | L, 30-27 | Did Not Play | at PHI, 8:30 pm (MON), ESPN |
| Eric Berry | DB | Kansas City | Chicago | L, 18-17 | 3 tackles, 2 pass def | at MIN, 1 pm, CBS |
| Tyler Bray | QB | Kansas City | Chicago | L, 18-17 | Non-football Injury List | at MIN, 1 pm, CBS |
| Justin Coleman | DB | New England | Dallas | W, 30-6 | 2 tackles | at IND, 8:30 pm, NBC |
| Britton Colquitt | P | Denver | Oakland | W, 16-10 | 5 punts, 42.2 avg, 1 in 20 | at CLE, 1 pm, CBS |
| Dustin Colquitt | P | Kansas City | Chicago | L, 18-17 | 7 punts, 47.3 avg, 4 in 20 | at MIN, 1 pm, CBS |
| Morgan Cox | LS | Baltimore | Cleveland | L, 33-30 | Played | at SF, 4:25 pm, CBS |
| Matt Darr | P | Miami | BYE | | | at TEN, 1 pm, CBS |
| Arian Foster | RB | Houston | Indianapolis | L, 27-20 | 19 car, 41 yards, 9 rec, 77 yards | at JAC, 1 pm, CBS |
| Ramon Foster | G | Pittsburgh | San Diego | | Tonight, 8:30 p.m. ET, ESPN | vs. ARI, 1 pm, FOX |
| Zach Fulton | G | Kansas City | Chicago | L, 18-17 | Started at RG | at MIN, 1 pm, CBS |
| Justin Hunter | WR | Tennessee | Buffalo | L, 14-13 | 4 rec, 38 yards | vs. MIA, 1 pm, CBS |
| Malik Jackson | DE | Denver | Oakland | W, 16-10 | 6 tackles, 1 sack | at CLE, 1 pm, CBS |
| Ja'Wuan James | T | Miami | BYE | | | at TEN, 1 pm, CBS |
| Austin Johnson | FB | New Orleans | Philadelphia | L, 39-17 | Did Not Play | vs. ATL, 8:25 pm (TH), CBS/NFLN |
| Peyton Manning | QB | Denver | Oakland | W, 16-10 | 22-for-35, 266 yards, 2 INT | at CLE, 1 pm, CBS |
| Jerod Mayo | LB | New England | Dallas | W, 30-6 | 2 tackles | at IND, 8:30 pm, NBC |
| Daniel McCullers | DT | Pittsburgh | San Diego | | Tonight, 8:30 p.m. ET, ESPN | vs. ARI, 1 pm, FOX |
| Tony McDaniel | DE | Tampa Bay | Jacksonville | W, 38-31 | 1 tackle | BYE |
| Denarius Moore | WR | Buffalo | Tennessee | W, 14-13 | 3 punt returns, 13.0 avg | vs. CIN, 1 pm, CBS |
| Cordarrelle Patterson | WR | Minnesota | BYE | | | vs. KC, 1 pm, CBS |
| Mychal Rivera | TE | Oakland | Denver | W, 16-10 | 3 rec, 33 yards | BYE |
| Chris Scott | G | Carolina | BYE | | | at SEA, 4:05 pm, FOX |
| Matt Simms | QB | Atlanta | Washington | W, 25-19 | Practice Squad | at NO, 8:25 pm (TH), CBS/NFLN |
| James Stone | C/G | Atlanta | Washington | W, 25-19 | Played | at NO, 8:25 pm (TH), CBS/NFLN |
| Luke Stocker | TE | Tampa Bay | Jacksonville | W, 38-31 | Did Not Play | BYE |
| Dallas Thomas | G | Miami | BYE | | | at TEN, 1 pm, CBS |
| Dan Williams | DT | Oakland | Denver | L, 16-10 | 5 tackles | BYE |
| Jason Witten | TE | Dallas | New England | L, 30-6 | 5 rec, 33 yards | BYE |